Dr. Dattatray Chopade Patil
MD - Homeopathy
Dr. Dattatray Chopade Patil
Education :
BHMS - Maharashtra Universtity of Health Sciences, Nashik, 2004
MD - Homeopathy - Maharashtra Universtity of Health Sciences, Nashik, 2012
Experience : 2005 - 2018 Consultant at Matoshree Homoeopathic Hospital
Registrations : 39144 Maharashtra Council of Homoeopathy, 2005
About Me:
Address:

107, E Ward, Tarabai Park,Landmark: Behind Hotel Vrishali, Kolhapur.

Contact:

Phone: + 9371101771 / 0231 2651771
Email: drdatta1234@gmail.com
Taken BHMS Degree in 2004 from Venutai Yashvantrao Chavan Homoeopathic Medical College Dasara Chowk Kolhapur and post graduate MD Hom in 2012 from Dr J J Magdum Post graduate Homoeopathic Medical College Jaysingpur District Kolhapur under Maharashtra University of Health Sciences Nashik.
Dr Mrs Pooja Dattatray Chopade Patil Completed BHMS Degree from Gandhi Natha Rangaji Homoeopathic Medical College Solapur in 2010 Under Maharashtra University of Health Sciences Nashik
I was suffered multiple corns on left feet during Medical student life in 2000 that time well known Surgeon from Kolhapur prescribed corn caps I applied for 4-6 months on feet's but only temporary effect then Surgeon Operated only one and other will operated when first surgical wound heal. During this time taken Homoeopathic medicine for corns within treatment of 1 month all other corns gone without surgery. This is the most important thing in my life done and turning point towards Homoeopathic practice.
Homoeopathic practice since 2005 in 13 years near about 9000 patients get satisfactory results. Mostly cases of Renal calculi, Gall Bladder stone, piles, arthritis, Lumbar spondylitis, slip Discs herpes zoster (Nagin) and many others related to immune system Renal disorders, psoriasis, and other skin problems like acne, pimples, vitiligo, male and female problems, Infertility. All types of cancer, Diabetes and Hypertension, Heart blood vessels Blockages, Gangrene feet's, patients successfully treated with in few days.
We have no any breaches in other cities but Patients comes here from Kolhapur, Sangali, Solapur, Satara, Pune, Mumbai, Ratnagiri, Sindhudurg, Belgavi, Goa, Karnataka .
धन्वंतरी जीवनगौरव सन्मानपत्र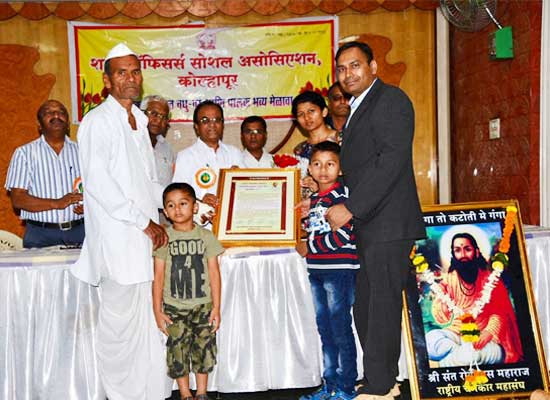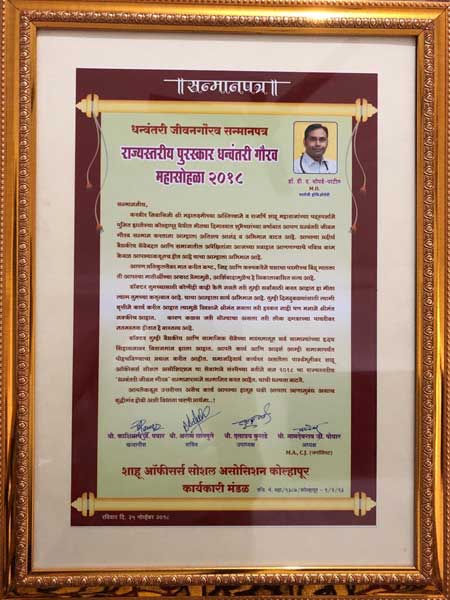 ABC of Homoeopathy Certification
Diseases

&

Treatments

Dr. Dattatray Chopade Patil is a Homoeopath,Urologist and Gynecologist in Kolhapur and has an experience of 13 years in these fields.